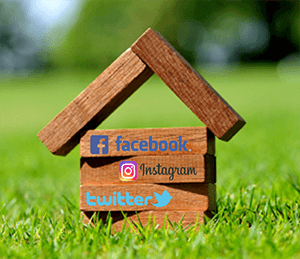 If your answer is 'less than 30%' then you definitely should read further.
When's the last time you looked up a business in a phone book or newspaper? Those days are long gone and today, savvy realtors use multiple online channels to market their business and listings. Effective social media marketing for real estate agents can set your business apart from the competition and get you in front of more buyers than you can imagine.
The problem is, most businesses go about it the wrong way. They write a bunch of posts get a few likes to there pages but no real engagement and definitely not enough leads or sales.
The master key is to know how to use social media to reach the right people, at the right time, with the right message, and keep them interested in what you have to say. This is also a lot easier than you think and it's a formula that can be rinsed and repeated over and over once you get it.
Today I want share with you just a few of some of the top real estate tips from our expert social media marketing team that will help you keep an audience engaged while drawing in new potential clients. To put it simply – make yourself likeable, turn you into an authority in the real estate market and earn your business the notice and leads it deserves.
Meaningful Posts
People turn to social media to be entertained, educated, and intrigued. Simply posting to reach a certain number of posts per day is not going to keep your followers engaged; it's going to do quite the opposite.
Stick to the 80/20 rule when it comes to posts. 80 percent of your posts should be about a topic related to your clients' interests, like market / lifestyle tips, news or community events.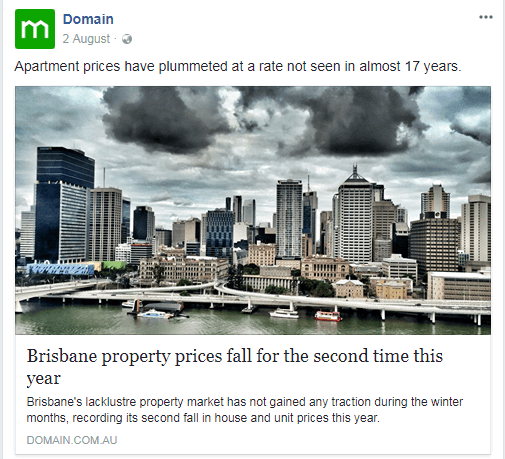 The remaining 20 percent should be about your business and what you can offer.
This should be an easy tip to follow because as a real estate professional, you already are so knowledgeable about the neighborhoods and local events. Whether you post articles featuring the best restaurants, trendy home DIYs, local charities, or school events, you'll be able to keep clients engaged because you're talking about their current (or soon-to-be) community.
 Use The Channels Your Clients Follow
Some realtors try to manage too many social media channels in an effort to reach everyone online. According socialmedianews.com.au, roughly eight-in-ten online Australians (79%) now use Facebook, around one-third of online adults (32%) report using Instagram, and roughly one-quarter of online adults (24%) use Twitter.
Each social media channel has a specific focus and user type. LinkedIn, for example, is popular among business professionals hoping to broaden their business network – not buy a house.
Real estate is a visual market, so most realtors will benefit from having an active presence on Facebook, Twitter, and Instagram. These channels are also great when it comes to monitoring and analyzing engagement. You can get an in-depth understanding of the clients and prospects that are engaging with your page and posts."
These three social media marketing channels will give you the greatest reach to connect with property buyers and sellers.
Creating A Lead Capture Campaign With Branded Landing Pages
If you are not using the power of Facebook advertising to build your database of clients then you are missing a huge opportunity. As of July 2017 Australia had 17,000,000 active Facebook users and that figure most likely includes your past and present clients and many more just like them.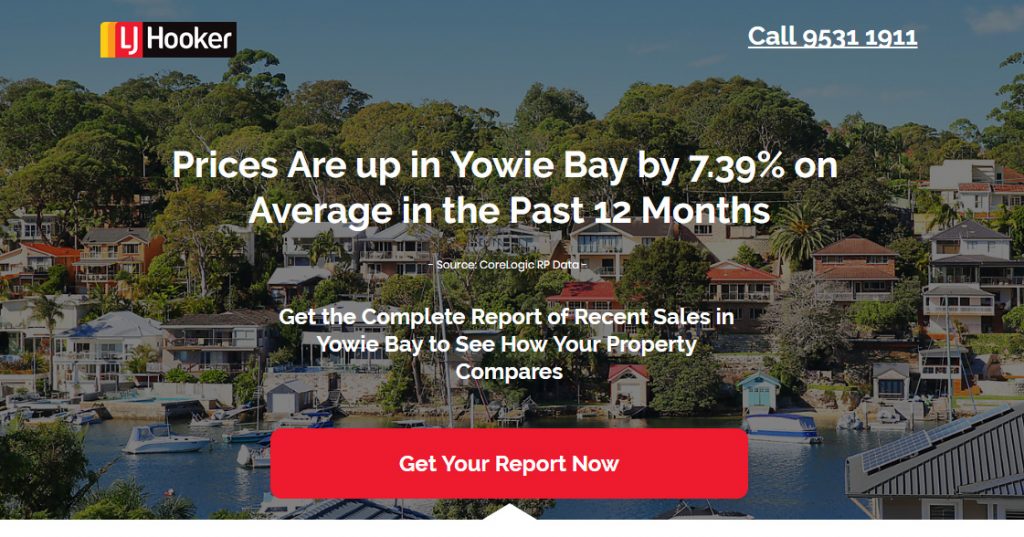 So, how would you go about setting this up?
Here are the steps to launching a leadgen campaign:
Create a branded landing page and offer some valuable content to giveaway like this: click here
Find your audience on Facebook through a huge range of demographic targeting options like 'postcode', 'occupation', 'income', 'home owner', and many many more.
Launch ad campaign and drive traffic to new landing page.
User completes the form to get the content and boom, you have a new potential customer!
Getting leads this way is not only hugely effective but also much cheaper than any other form of advertising.
Follow Each Channel's Tone
"One size fits all" is far from the case when it comes to real estate social media marketing. If you try to cut corners by using the same posts and headlines for all your social media marketing strategies, you risk boring your audience.
It's important to match the content of your posts to the interests of each individual social channel's audience.
Incorporate Video
Social media marketing and video are a great match. With a little effort, you can use a single video to engage clients and connect with your audience. Take a short 10-30 second video showcasing the view from a waterfront property or the perfect backyard for entertaining.
Pro Tip: Use Facebook Live Video to broadcast your next Open House. Take your Facebook followers through a live walk-through of the property. They will be able to access this video afterwards if they need to show a spouse or friend too but in most cases the user would just share the video and tag others within the same post. Welcome to 'word of mouth' advertising 2017.
Listen and Respond
Before you tweet, do some research. Search Twitter for people mentioning your company, your competitors, and your industry. For example, realtors can use Twitter and Facebook to search for the phrases "looking for a realtor" or "need to find a 1 bed apartment" in their town. You'll often find that people are already looking for you.
Respond to each comment, question, and review that you are given. This is crucial as it displays your customer service to potential clients.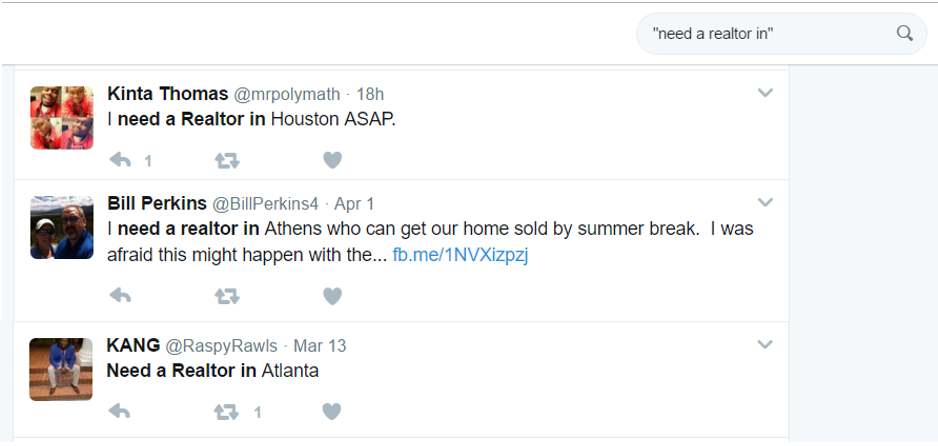 If you would like a free audit of your website and digital marketing footprint including advice on how you can achieve better results then please complete the form below and we'll send it over to you in the next few days.
At DotFusion, we specialize in local business, and what's more local than home buying?
Complete the form below for your free audit and we'll talk to you soon.